Miles Cook's Bible
Published in MAYFLOWER DESCENDANT
Summer 2003, Volume 52, No2 by Mark Ihrig
"Miles Cook's Bible will my children, preserve this record" – Benjamin Cook
"This inscription is found on the flyleaf of Miles Cook's bible and has echoed over many generations. For almost 200 years, the Bible was handed down to the oldest son for safekeeping and recording of the family's history. A second inscription transcribed from an earlier Cook family registry matches the fifth generation of Thomas Cook Jr. and Hannah Tryon. This links almost 400 years of Stephen Hopkin's descendants.
The Cook Bible started with Miles Cook in 1831. It was handed down to Benjamin Cook after Miles's death on 10 July 1846. In 1860 Benjamin took the "original family register" and inscribed detailed information about his grandparents into the Bible. Before the War of 1812, Benjamin had moved to Antwerp, Jefferson Co., N.Y., where he built a pole cabin and farmed. He was the third teacher of the area. Benjamin married Lucinda Foster on 24 June 1827. "Lucinda died leaving six out of eight children."
Benjamin and Lucinda's son, James Foster Cook, was born on 1 January 1843. James Foster Cook was a bugler in the New York 142nd Regiment Infantry during the Civil War. James Foster Cook married Almira Helm on 6 May 1877 probably in New York and they later migrated to Michigan. James inherited the Cook Bible from his father Benjamin after his death on 13 June 1880 in Antwerp, N.Y. Miles and wife Sarah, and Benjamin and wife Lucinda are all buried in the Kinne Cemetery, Antwerp, Jefferson Co., N .Y. James Foster Cook and Almira Cook had eight children in Michigan, including two sets of twins. The family migrated to Condon, Oregon.
The Bible continued to be passed down to the next oldest son, Benjamin Cook (1886-1936); to his son, Lloyd ("Ted")Laverne Cook (1907-1981); and to his son, Dr. Thomas Cook. Dr. Cook lives in South Dakota and currently has possession of the Cook Bible. He provided the author with scanned color copies of the fragile Bible pages. He included many older photos of the Cook family. Publishing the data here will provide a lasting legacy for the six generations recorded in a manner that would make Benjamin Cook (1791-1880) proud."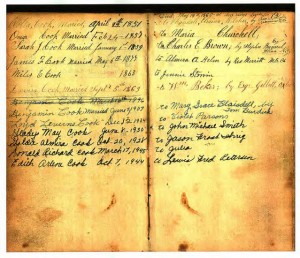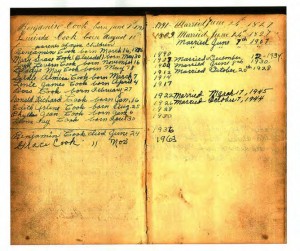 Miles Cook's Bible Transcription
Miles Cook's Bible
Will my children preserve this rekord.
Benjamin Cook
Title page:
The Holy Bible, containing the Old and New Testaments.
Translated out of the Original Tongues, and with the former Translations.
Diligently compared and revised.
Stereotype Edition
New York:
Printed by D. Fanshaw,
For the American Bible Society
1831
Miles Cook – son of Thomas and Hannah Cook (originally Hannah Tryon*)
[Miles Cook] was born June 16, 1765 – died July 10th 1846
aged 81 years-24 days
*Hannah Tryon
Sarah, wife of Miles Cook and daughter of Samuel and *Mary B. Griffin, died March 16,1837 – aged 67 years 5 months
*Originally Mary Bartlet [Bartlett]
[2nd page]
Benjamin Oldest son of Miles and Sarah Cook and grandson of Thomas and Hannah Cook was born June 7, 1791 in Durham in Green County State of New York.
Died June 13th 1880 –aged 89 yrs and 6 days.
Lucinda (wife of Benjamin Cook and youngest daughter of Edward Jr. and Lovisa Foster and grand daughter of Edward and Deborah (*Foster) was born August 11, 1809 in Antwerp, Jefferson County, State of New York. Was married June 24, 1827 by C.M [?]
Died December 18, 1852, 43 yrs and 4 days, leaving six out of eight of her children. The youngest then six years old, L. Lovisa
*Originally, Deborah Banks
Benjamin Cook born June 7, 1791 – Married June 24, 1827
Lucinda Cook born August 11, 1809 – Married June 24, 1827
(parents of nine children) [see page 5 for Ben Cook's children]
Benjamin Cook born March 16, 1886 – Married June 7, 1907
Mary Grace Cook (Blaisdel) born May 30, 1890 – Married June 7, 1907
Loyd Levern Cook born November 16, 1907 – Married December 12,1934
Gladys May Cook born May 18, 1909 – Married June 8, 1930
Goldie Almira Cook born March 7, 1912 – Married October 20, 1928
Lonie James Cook born April 4, 1914
Ross Cook born February 27, 1917
Donald Richard Cook born Jan. 16 1922 – Married March 17, 1945
Edith Arlene Cook born Aug. 25, 1926 – Married October 7, 1944
Phyllis Jean Cook born June 6, 1928
Leona Fay Cook born April 30, 1930
Benjamin Cook died June 24, 1936
Grace Cook died Nov. 1963
Rolla Cook married April 22,1851 to Hannah Elmira Belcher – died May 1786 at Deer River Lacota Co. NY by Rev J Flatz [illegible]
Omar Cook married Feb. 24, 1857 to Maria Churchell
Sarah J. Cook married January 1, 1859 to Charles E. Brown by Stephen Burard[?] [?] NY
James F. Cook married May 6, 1877 to Almira A. Helm by Rev Merritt M.B.Ch.
Miles E. Cook married 1863 to Jennie Starrin [illegible]
Louisa Cook married Sept. 5, 1869 to Wm. Beker by Esq Gellett Olic[?] NY
Benjamin Cook married June 7, 1907 to Mary Grace Blaisdell, by Tom Burkick
Loyd Leverne Cook married Dec. 12, 1934 to Violet Parsons
Gladys May Cook married June 8, 1930 to John Michael Smith
Goldie Almira Cook married Oct. 20, 1928 to Jason Frost Ihrig
Donald Richard Cook married March 17, 1945 to Julia
Edith Arlene Cook married Oct. 7,1944 to Lewis Fred Peterson
Seth Cook born August 29,1828 died September 20, 1830, 2 yrs.22days
Joseph Cook born January 19, 1830 died July 18, 1840, 10 yrs. 6mo.
Rolla Cook born February 1, 1832
Omar Cook born January 6, 1834
Miles Cook born October 15, 1835
Sarah Cook born August 22, 1837
James Cook born January 1, 1843
Lovisa Cook born July 23, 1846 died Feb. 13, 1872 – 25yrs. 6mo. 20days
Leaving an infant son 10 min old named Fred Becker.
Grandparents of Benjamin, Jesse, Samuel, Miles, Gideon, Mary,G. Ruth and Rhoda Cook Vir.
Thomas Cook born Feb 5, 1731 near Boston, Mass., of Welsh ancestry, Emigrated to Connecticut, lastly to NY State, where he resided till his death.
He died September 18, 1820 – Aged 89 years, 7 months and 15 days.
Hannah Tryon was born June 24, 1733 near Middletown Connecticut. Married there and emigrated with their children to Durham Green County, New York and died March 24, 1797 – Aged 64 years, 9 months of dropsey. Parents of eleven children.
Transcribed from original family register – Aug 19, 1860 by Benjamin Cook.
Cover Page:
The new Testament of our Jesus Christ – Translated out of The Original Greek: and with the Former Translations Diligently Compared and Revised – Stereotype Edition
New York:
Printed by D. Fanshaw,
For the American Bible Society
1831 Ancestry
Thomas Cook born Feb. 3, 1731
Hannah Tryon born June 24, 1733 were the parents of eleven children.